Business Source Premier features the full text for more than 2,300 journals in all business disciplines. Coverage includes marketing, management, MIS, POM, accounting, finance, and economics. Additional non-journal content includes company profiles, country reports, industry profiles, market research reports, and SWOT analyses.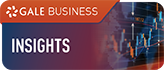 Gale Business Insights: Global

Detailed company and industry profiles including SWOT resports, market share reports, and financial reports. 
Government sites are invaluable sources of free information: reports, data and statistics, on a wide range of subjects.

USA.gov
The portal to information from all agencies of the federal government.
American Factfinder
Statistical information gathered from the U.S. Census.
State of Minnesota
Minnesota's government web portal, with links to all kinds of information on business, economics, demographics, and more.
Minnesota Department of Employment and Economic Development (MN Deed)
A wealth of information from the stte for business and job seekers.
Minnesota Compass
Minnesota Compass is a data and statistics project that measures progress in Minnesota and its regions, counties, and cities in areas such as education, economy and workforce, health, housing, and public safety.
Minnesota Issues Resource Guides
Extensive resources on Minnesota-related issues, compiled by the MN Legislative Reference Library.
Metropolitan Council
The Met Council studies and publishes reports on many issues concerning the Twin Cities metro area: parks, transportation, planning, and more.
Dakota County
The county website, with links to information pertaining to Dakota County issues. Click on the Government tab for the most info.
For city information, do a Google search of the city you're interested in. It may be useful to add keywords such as "planning," "development," or the specific issue you're investigating.
Thomasnet.com
Directory for locating manufacturers and suppliers. A good source for pricing information.
LearningExpress Library: For Tutorials on Usi
LearningExpress Library is an outstanding resource for academic and career development with hundreds of online tutorials, practice tests, and ebooks.
The Computer Skills section has links to tutorials about how to use PowerPoint.
LIBRARY CONTACT INFORMATION
This Guide Created by:

Barbara Tuttle
Reference & Instruction Librarian
651-423-8345
Barbara.Tuttle@dctc.edu
 
Contact All of Us

Use the e-mail address or phone number below to reach us as quickly as possible:
library@dctc.edu 
651-423-8366
These are shared by all library staff, so whoever checks their e-mail or answers the phone first will help you.
Fall & Spring Semesters: 
Monday - Thursday: 
7:30 AM to 6:00 PM
Friday: 
7:30 AM to 3:30 PM
Summer Sessions: 
Monday - Thursday: 
8:00 AM to 1:00 PM
Writing Center

The Writing Center offers writing help to all DCTC students, including help with citing your sources. You can schedule an appointment by e-mail, phone (651-423-8420), or in person at the Learning Center (room 2-141).


How to Cite Your Sources
There are different styles for citing the sources you use in your assignments. Your instructor will let you know whether to use APA, Chicago, MLA, or some other style.
Here are some introductory guides to these styles from the Purdue Online Writing Lab:
For more details and examples, check these citation sites:
KnightCite
Citation Machine
 
Our catalog and many databases can provide citations for the books, videos, and articles you find in them. Just look for a link that says Cite or Citation while the catalog or article record is on the screen, then select the appropriate style. It's easy to copy and paste citations into your bibliography! Be aware that these citations aren't always 100% accurate, so check them before turning in your assignment.
To cite sources from LexisNexis Academic, see this guide from the McGraw-Page Library at Randolph-Macon College.

​​Evaluating Web Sources

Here are some useful guides from other universities to help you evaluate information you find on the web.

Evaluating Information Found on the Internet (Johns Hopkins University)

Evaluating Print vs. Internet Sources (Purdue University)

Evaluating Web Pages: Techniques to Apply & Questions to Ask (UC Berkeley)
 
Avoid Plagiarism​
"Plagiarism includes, but is not limited to, the use, by paraphrase or direct quotation, of the published or unpublished work of another person without full and clear acknowledgment."
This definition of plagiarism comes from the DCTC Student Code of Conduct, which you'll find on page 31 of the 2012 Student Handbook. See how easy that was?
Citing your sources is an essential step in the research process. This allows others to verify your information and gives credit to previous researchers and writers for their hard work.